News
FUNDRAISING WINERY EVENING : Friday 11 September 2015 : 6.00-8.00 pm
At award winning Brightwell Vineyard, Wallingford, OX10 8LJ
Enjoy a tour of of the vines where the grapes will be nearly ripe - hear about and see the winemaking process - taste the results! £15 a head
Book your places now, enquiries to Lesley Williams (Secretary) on 07982 439 828
secretary@oolt.org.uk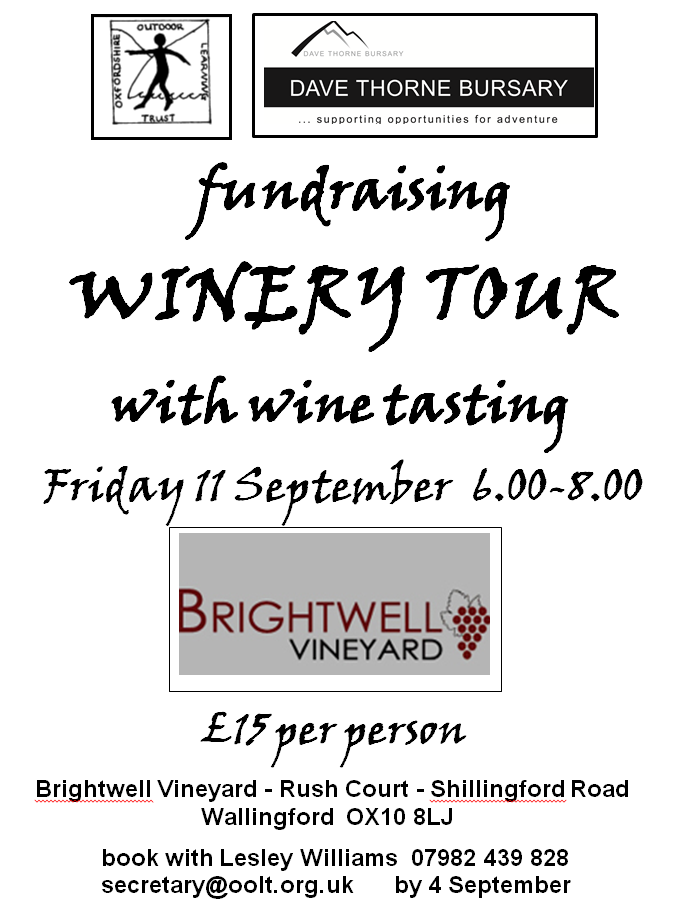 FRIENDS OF HILL END
This support group for the Hill End Centre was established through the auspices of OOLT early in 2013. It is now independent, offering family workshops, person power for Hill End's own events and applying for grants. In November 2014, the Friends were one of 161 Community groups who won a £500 grant in a public vote through Skipton Building Society's Grassroots Giving scheme. The money is to purchase a mower for the Hill End Volunteer Team which undertakes maintenance work on the site and the local footpath network.
http://www.hillend-oec.co.uk/cms/hillend/friends-hill-end
DONATIONS
We acknowledge donations to the Trust/Bursary during 2014
GS Exiles Mountaineering Club - proceeds of a raffle at their AGM
Glasbury Charity Quizzers
Doris Field Charitable Trust - for updating leaflets & certificates
TRUSTEES
The OOLT Trustees (as at February 2015) are
Clive Peters (Chair)
Lesley Williams (Secretary/Treasurer)
Graham Jones
Keith Eaton
Maggie Willis
Keith Ponsford
Mike Salter
Yvette Fay
We thank those who have served as Trustees but stepped down over the past 18 months, because of change of their work role or pressure of work: Nancy Townsend, Carol Nielsen, Sally Withey, Helen Atkinson, Sam Larsen, Alan Parsons, James Watt
Outdoor Learning Cards | course 2 | 01.01.14
A further 18 staff from 10 schools were trained and demonstrated how imaginative and creative primary teachers can be, in adapting activities
Feedback from the two courses indicates the impact of the training can be downloaded here.
Outdoor Learning Cards | course 1 | 24.10.13
by the Outdoor Education Advisers' Panel
On October 24, 18 staff from 9 Oxfordshire primary schools enjoyed a day's practical training on the use of the Outdoor Learning Cards which have been developed by the Outdoor Education Advisers' Panel, at Hill End, sponsored by OOLT. They experienced challenge team games, bouldering, building a shelter, firelighting in order to cook lunch in a cooperative fashion (and wash up), compass work and orienteering. All went home with the excellent pack - cards, handbook and cd - ready to develop the outdoor learning in their schools.
They have committed to sharing good practice with local schools during next year.
OOLT hopes to repeat the sponsorship for another 10 schools in 2014. Any school interested in taking up the offer (OOLT pays the £100 per staff member course fee; the school pays for the resource pack) should contact Lesley Williams (who also enjoyed the course!)
End to End Trail, August 19th 2013
THE END OF THE STORY?
Over 50 family and friends - including his grandfather Brian, who established Yenworthy Lodge on Exmoor, the Outdoor Education Centre which inspired Chris to fundraise for OOLT - celebrated Chris' achievement at a garden party back home in Barnet, North London on 11 August - and helped to raise the sponsorship total to £2,590 plus gift aid. The Just Giving page will remain open for a couple of months to receive further congratulatory donations.
Chris is now back at work at Go Ape, Trent Park, prior to embarking on an Outdoor Leadership degree course at University of Derby, Buxton in September. He is already talking about finding a further challenge.......
THANKS AGAIN to him and his family for their support for OOLT
End to End Trail, August 9th 2013
JustGiving | Facebook | Twitter
CONGRATULATIONS AND THANKS to Christien Greaves who reached John O'Groats on Friday 9 August, day 98 of LEJOG, having started on Saturday 4 May. Current sponsorship is (£2,400) but he's sure to hit the £2,500 target at the celebration party back home in Barnet on Sunday 11 August. OOLT is as excited and proud as are his parents of his achievement!
End to End Trail, May – July 2013
JustGiving | Facebook | Twitter
19 year old Chris Greaves is using the last part of his gap year to raise funds for the Dave Thorne Bursary by walking 1,200 miles for us! He was inspired by a few weeks' work experience last September at Yenworthy Lodge on Exmoor (where his grandfather Brian was Head of Centre) and his observation of the impact of their time spent there on the children. He is determined to help ensure young people don't miss out!
The trail doesn't come through Oxfordshire but Chris will visit Yenworthy Lodge and Woodlands and would welcome anyone who can arrange to meet him and share a day or two's walking.
Download his leaflet HERE
OOLT wishes to thank the following companies and organisations for sponsorship in cash or kind:
We know Chris will complete the challenge - he won't be beaten - but let's ensure he reaches his fundraising target, too
September 2012
15th: Outdoor learning and play day at Hill End Centre. OOLT had an information stand with co-operative games for families to enjoy.
Download poster HERE
June 2011/12
Toby West, an Oxfordshire teacher celebrated his 40th birthday by accepting 40 challenges during the year including a headshave, the Iron Man Challenge on Exmoor and the five UK peaks in 48 hours. He raised £1,332 in sponsorship for the Dave Thorne Bursary.